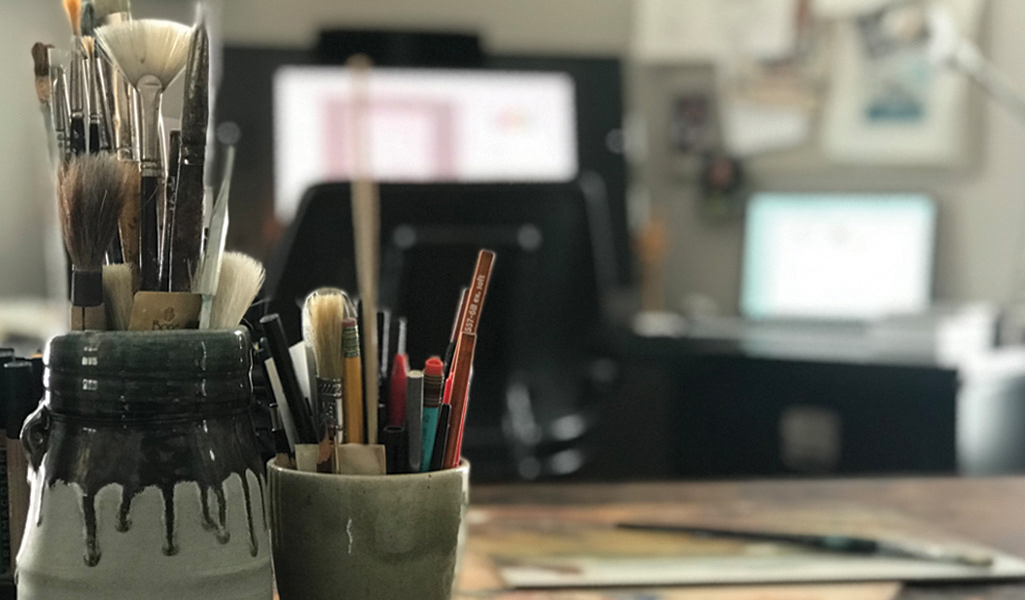 As a child I was always active. I participated in just about every sport that was offered in the small town I grew up in. On summer days along with my brothers and sister, we would play outside with neighbors from breakfast until dinner. Some things don't change. I still don't like to stay in one place for very long. Art though, has always been the one thing that calms and centers me. For as long as I can remember I was always drawing. I would collect books of different subject matter I found interesting (usually horses) and go page to page and sketch for hours. To this day, if I get involved in a painting, drawing or a design I'm really connected to, hours can go by in a blink. 
It was an easy choice to make art my career. I received my BFA in Illustration from the Milwaukee Institute of Art and Design in 1995 and have been working in the design industry since. For the past twenty years I've been freelance. I love the field of design and the variety of projects freelance provides. Occasionally I get a chance to combine my illustration and design skill – those are my absolute favorite projects. Through the years I've worked on just about everything you can imagine, from packaging and branding to trade shows and product design. I've even had a line of luggage that I designed in Target and created dozens of custom garden gnomes. Like I said, just about everything.
I'm still extremely active. I play tennis, soccer and run among other things, but what settles me is art, and I always look forward to my next creative challenge. 
I currently work out of my studio in my home in the northwest suburbs of Chicago which I share with my husband, two daughters, two dogs and a leopard gecko.